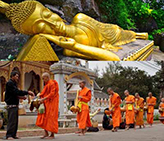 Situated on the confluence of the Nam Khan and Mekong Rivers, Luang Prabang is a UNESCO World Heritage town shrouded in mist, mountains and jungle, and a center for Lao culture. Its position along the banks of the Mekong contributes to the leisurely ambiance, making it a pleasant town to explore by foot or bike. Coming to Luang Prabang, you also have chance to cruise along the Mekong River and explore the daily life activities along the river banks. More adventure, a few day trekking is awaiting. Family adventures at elephant camp are also waiting for those who are ready and eager to be friends with these big charming guys.
See OUR BELOW OFFERS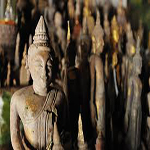 Price from: $346
Beside the highlights of this favorite heritage town, a day to elephant village will expand your experiences about the value of life here and be a great option for family adventures.
Price from: $253
Luang Prabang is one of the most favourite town in South East Asia, not flooded with too many tourists, the town keep the calmness and charm with the giving alms ritual every early mornings and the glittering Wats along the river bank.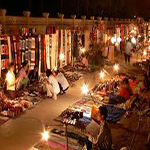 Price from: $188
A short stay is never enough for Luang Prabang, but enough to give you a full view of life and culture here with boat trip on Mekong river and road trip to the waterfall in the town of many beautiful Wats.